We're back everyone!
The Journey:
We spent about 10 hours that felt like 20 getting from California to Indiana, and as the travel haze faded, we arrived at our hotel. It was a budget chain directly across from the architecturally imposing Lucas Oil Stadium which was visible every minute we spent outside during our weekend. Our first night we decided to skip early con check in/ set up, and eat dinner at the pub next door before passing out. Definitely the right choice, a cheeseburger and some soft pillows was the cure for residual travel anxiety.
We woke up bright and early Friday morning in spite of still being on California time and set off to get set up. We packed light so once we found the dealer hall/ gaming space/ podcast stage/ celebrity signing area it took about 10 minutes to set up. We wandered around downtown Indianapolis for a few hours, getting caffeine and fresh air. Around 11 we arrived back to the booth and got to chatting with the other VR devs around us.
The folks at Mad Goblin Games were demoing a neat tabletop RPG game with asymmetric player/ dungeon master dynamics. Mythos Maker had an "escape the monster in the maze" horror game that got some good squeals. Clique Games was showing off their fully hand tracking arcade shooter Rogue Ascent. Atlassia was behind a curtain from us so we didn't get much face to face time, but they had a multi player hero shooter that people seemed to enjoy. Plow Games brought a flat screen couch co-op title (And a couch!) that a lot of people enjoyed.
People began to trickle in around noon, and in a pattern that would repeat, they mostly circled the floor for the first hour, taking everything in and enjoying the cosplay. More on cosplay later. After our first player, we were demoing non stop for the next 6 hours. It was a lot of fun! Players took 15-20 minutes to get through the tutorial, and depending on if there was a line or not several players kept going up the stack for another 10-15 minutes. People seemed genuinely enthusiastic, it was really cool. Anthony was paying attention to how each player interacted with the game; he definitely got a few good ideas.
That night we got dinner and a few drinks with the people at Argent Games (If you're looking for cool vampire light novels, they've got you covered!). The section of town we wound up in seemed like a pretty cool leisure district, plenty of happy diners and revelers, and a cool open air market. It's always fun to chat with other indie game devs, we certainly enjoyed ourselves.
Saturday was the big day, we still managed to get in early and had a great day talking and demoing. We managed to get out without buying too many plush; Aaron got a sleepy Charmander and some small keychains, and Anthony got a basketball sized Kirby. Definitely a good haul. We were pretty wiped out by the end of the day, but it was a lot of fun.
Cosplay tangent: The cosplay was off the charts, it felt like over half of all con goers were in pretty solid outfits. I saw vault dwellers, Mz Frizzle, characters from just about every recent anime, a few Gokus, pokemon riffs, everything you could imagine. Not to mention the 501st and rebel legions Star Wars groups, who were turned up to 11.
On Sunday the Reboot coordinator tried all the games and we celebrated the first Reboot Award ceremony in a few years. We won! It was a great weekend and we feel honored to break back in the Reboot Awards.
Unfortunately due to travel constraints we had to head out shortly after that, but it was a great weekend and it was so nice to share the game with new people.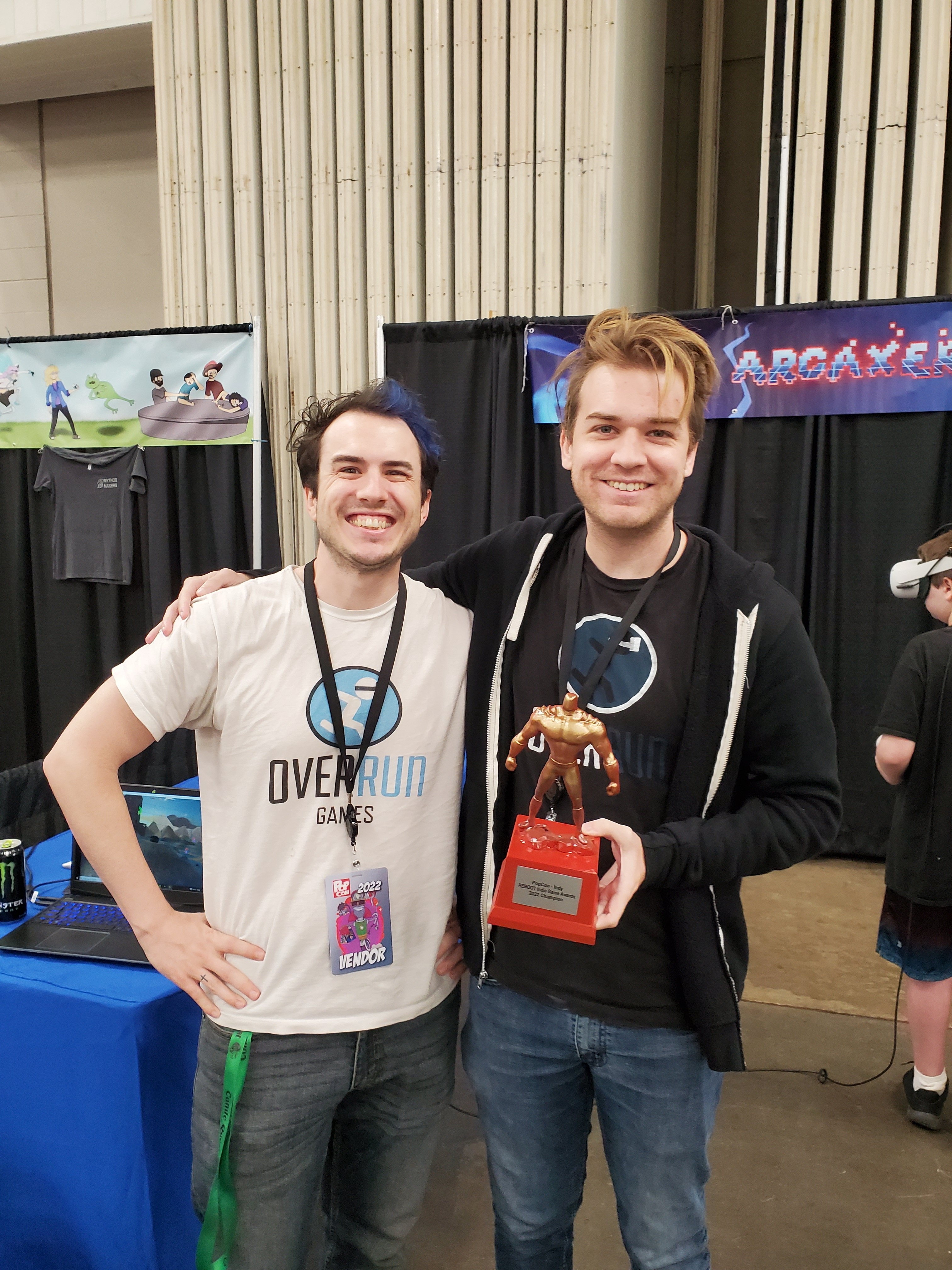 What we learned:
Spending a whole weekend watching people play your game is always a great way to figure out what needs to be adjusted to make it a painless experience. A lot of the people coming up to our booth were very young children or people who had never even tried VR before so our tutorial was really put to the test. Luckily I can say that it held up! Even the really small kids got a grasp of our sort of deep RPG very quickly and were slashing imps and slinging Arcax Missiles in no time.
Other than some very minor bugs that popped up I didn't have a whole lot notes on things to fix when I got home, but I did get some fun ideas for additions based on how people played the game. For example, the kids really loved picking up grabbables in the overworld dungeons and chucking them at everything. Enemies do get knocked down when you throw something at them but turrets do not, so now turrets will explode if you throw a crate at them. Watching how people play your game and then making sure things happen when they expect them to will certainly help leave a more lasting experience.
Not really a game design note but we noticed that when kids read the dialogue they follow along each word with the UI pointer as they read which was kind of funny. Just an interesting quirk of kids having more natural input in a game.
Anyway Anthony has a whole bunch of new features to finish for this next giant update were working on and we really think people are going to like what were adding to the game! Stay tuned for some interesting Arcaxer news soon!